Boeing F-15K Slam Eagle
From Canadian Power Wiki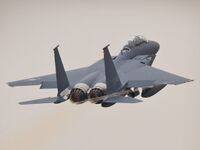 The Boeing-KAI F-15K Slam Eagle (Korean: F-15K 슬램 이글) is an advanced derivative of the F-15E Strike Eagle, operated by the Republic of Korea Air Force. Several major components were outsourced to various Korean companies as part of an offset agreement, wherein Korea was responsible for 40% of production and 25% of assembly. Fuselage and wings are supplied by Korea Aerospace Industries, flight control actuator by Hanwha Corporation, electronic jammer and radar warning receiver by Samsung Thales, Head-up display, airborne communication system, and radar by LIG Nex1, and engines by Samsung Techwin under license before final assembly at Boeing's St. Louis facility.
In 2002, ROKAF selected the F-15K for its F-X fighter program, during which the F-15K, the Dassault Rafale, the Eurofighter Typhoon and Sukhoi Su-35 were evaluated. A total 40 aircraft were ordered with deliveries beginning in 2005. On 25 April 2008, the Korean government announced the order of second batch of 21 F-15Ks, worth 2.3 trillion Korean won (US$ 2.3 billion). Aircraft of second batch differs from the first batch in having Pratt & Whitney F100-PW-229 (EEP) engines, license-produced by Samsung Techwin, for commonality with the KF-16 fleet. Republic of Korea Air Force has received 50 F-15Ks by June 2011.
The F-15K variant has several features not typically found on F-15Es, such as an AAS-42 Infra-red search and track, a customized Tactical Electronics Warfare Suite to reduce weight and increase jamming effectiveness, cockpit compatibility with night vision device, ARC-232 U/VHF radio with Fighter Data Link system, and advanced APG-63(V)1 mechanical-scanned array radar. The APG-63(V)1 radar has common digital processing equipment with the APG-63(V)3 AESA radar, and thus is upgradable to an AESA radar via antenna replacement. The F-15K is equipped with the Joint Helmet Mounted Cueing System. Weapons such as AGM-84K SLAM-ER ATA, AGM-84H Harpoon Block II, and JASSM have been integrated.