Ariete Tank
From Canadian Power Wiki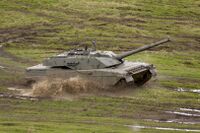 The C1 Ariete is the main battle tank of the Italian Army, developed by a consortium formed by Iveco-Fiat and Oto Melara (CIO, Consorzio Iveco Oto Melara). The chassis and engine were produced by Iveco, while the turret and fire-control system were supplied by Oto Melara. The vehicle carries the latest optical and digital-imaging and fire-control systems, enabling it to fight day and night and to fire on the move. Six prototypes were developed by 1988, which were subject to intensive testing the following year during which the vehicles travelled a combined 16,000 km. Deliveries were first planned for 1993, but in fact took place in 1995 due to delays. Final delivery occurred 8 years later in August 2002.
During the first years of adoption, the Ariete MBT showed some deficiencies regarding the powerplant. While the original V12 1,250 hp FIAT-Iveco MTCA (Modular Turbo-Charged Aftercooler) was a coupling of two of the V6 engines used by several Italian Army vehicles such as the Centauro tank destroyer and the Dardo IFV, it produced less power than the most advanced contemporary western designs. The Ariete's engine had to run at a high RPM to perform well, thus reducing the operating time between failures.
Moreover, to retain a good power-to-weight ratio, the total weight of the tank had to be kept below 60 tonnes. The relatively light weight of the Ariete helped lower consumption and facilitated the transport and mobility of the MBT (especially over bridges). This was obtained partially at the expense of the thickness of the armour that, only partially compensated by the good ballistic shape of the vehicle, raised some doubt about its ability to survive in the harshest environments.
As an improvement, Iveco developed a new version of the MTCA engine. The stroke was lengthened, increasing displacement to 30 litres, with a new common rail direct fuel injection system along a new double turbocharger, increasing power output to 1,200 kW (1,600 hp) at 1,800 rpm (with an electronically reduced torque of 5,500 N·m, maintained from 1,100 to 1,800 rpm to reduce damage to the transmission) and further reducing fuel consumption. The new engine had to be adopted during the first general revision of the existing vehicles, but seems to have been blocked by technical and financial problems. As for the armour, Oto Melara developed two different sets (with different thickness-levels, depends upon mission nature) of adjunctive armour, shown for the first time at Eurosatory 2002.
The Ariete Mk.2 (or C-2) was revealed in Eurosatory 2002 and is scheduled for production in the 2015-2020 timeframe. It will feature an autoloader, new hydropneumatic suspension, modernized FCS, 1.500 hp engine and more advanced fire control system and additional armor.