Antonov An-72
From Canadian Power Wiki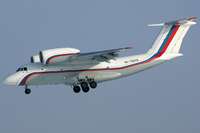 The Antonov An-72 (NATO reporting name: Coaler) is a Soviet/Ukrainian transport aircraft, developed by Antonov ASTC. It was designed as an STOL transport and intended as a replacement for the Antonov An-26, but variants have found success as commercial freighters.
The An-72 and the related An-74 get their nickname, Cheburashka, from the large engine intake ducts, which resemble the oversized ears of the popular Soviet animated character of the same name.
An-71: Prototype AWACS aircraft developed from the An-72. NATO reporting name: Madcap:
An-72: Preproduction aircraft. Two flying prototypes, one static test airframe and eight preproduction machines.
An-72A: Initial production STOL transport with a longer fuselage and increased wingspan.
An-72AT: Freight version of the An-72A compatible with standard international shipping containers.
An-72P: Patrol aircraft. Armed with one 23 mm GSh-23L cannon plus bombs and/or rockets.
An-72R/BR: Prototype electronic intelligence (ELINT) aircraft, with conformal antenna fairings running up each side of the fuselage. Known as 'Aircraft 88' during development and erroneously known as An-88.
An-72S: Executive VIP transport fitted with a galley in a front cabin, work and rest areas in a central cabin, and 24 armchairs in a rear cabin, can also be reconfigured for transporting freight or 38 passengers or as an air ambulance carrying eight stretchers.
An-72-100: Demilitarized An-72.
An-72-100D: Demilitarized An-72S.
An-74: Arctic/Antarctic support model with room for five crew, increased fuel capacity, larger radar in bulged nose radome, improved navigation equipment, better de-icing equipment, and can be fitted with wheel-skis landing gear.
Angola
Armenia
Egypt
Equatorial Guinea
Georgia
Kazakhstan
Libya
Moldova
Peru
Russia

Russian Air Force
Russian Naval Aviation

Soviet Union
Ukraine

Ukrainian Air Force
Ukrainian National Guard