Akizuki-class Destroyer (2012)
From Canadian Power Wiki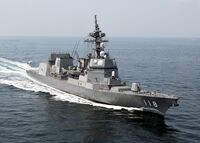 (DD-118)The Akizuki-class destroyer is a future destroyer class of the JMSDF - four ships are planned initially. The class is designed partly to "guard" Aegis destroyers in the Missile defense (MD) missions. This class was used to be called "19DD", derived from the Japanese calendar, specifically the 19th fiscal year of the Heisei period (2007).
The design of this class derives from the one of the Takanami-class destroyer, but there are many points improved. Main gas turbine engines are standardized with the power upped version of the Rolls-Royce Spey SM1C in contrast to the combination of the Rolls-Royce SM1C and the General Electric LM2500 which is used in Takanami-class.
The main features of the class are its enhanced C4ISR and AAW capability with the OYQ-11 advanced combat direction sub-system (ACDS) and the FCS-3A AAW weapon sub-system.
And also ASW and EW capabilities are enhanced with the OQQ-22 integrated sonar suite sub-system (hull-sonar and OQR-3 towed array; Japanese equivalent of the American AN/SQQ-89) and the NOLQ-3D digitalized EW suite sub-system. These sub-systems are integrated with NOYQ-1B Wide area network. The totality of these systems are comparable to the one of the Zumwalt-class destroyers.
The Akizuki-class is being offered by Mitsubishi Heavy Industries as an entrant in the USN's FFG(X) program.
Specifications
[
edit
]
Type: Destroyer (Hull designation symbol DD)
Service Period: 2012-
Characteristics

Length: 493 feet 9 inches (150.5 meters)
Beam: 60 feet (18.29 meters)
Draft: 17 feet 5 inches (5.31 meters)
Depth: 35 feet 9 inches (10.9 meters)
Displacement: 5,000-5,100 tons (Standard); 6,800 tons (Full)

Crew: 200
Installed Power: 3 x Kawasaki M1A-35 gas turbine power generators, (7,200 kW)
Propulsion: COGAG, two shafts,

4 x Rolls Royce SM1C Spey gas turbines, 64,000 shp (48 MW)

Range: 6,400 nautical miles (11,853 kilometers)
Speed: 30 knots (55.56 km/hr)
Sensor Suite

OYQ-11 ACDS
FCS-3A AAW System
OQQ-22 ASW System
OPS-20C Surface Search Radar

Countermeasures:

NOLQ-3D EW System
Mk.137 6-barreled decoy launchers

Armament

1 x 5"/62-caliber Mk.45 Mod 4 lightweight naval gun
2 x 4-cannister SSM Launchers (fires Type 90 AShMs)
1 x 32-cell Mk.41 Mod 29 VLS (fires RUM-139 VL-ASROC, RIM-162 ESSM, and Type 07 SUM)
2 x 20mm Vulcan Phalanx Block 1B CIWS
2 x HOS-303 12.75" triple fire torpedo tubes

Aircraft Carried: 1 x SH-60K Seahawk ASW Helicopter (fires Type 97 and Type 12 lightweight torpedoes)
Unit Run
[
edit
]
JS Akizuki (DD-115)
JS Teruzuki (DD-116)
JS Suzutsuki (DD-117)
JS Fuyuzuki (DD-118)